Hi, I'm Chie from Zak Zakka. Have you read our blog about KATE TOKYO Designing Eyebrow Powder back in June?
It really is a long-standing best seller in Japan, ranking 1st for eyebrow powders at @cosme, a large cosmetic community review site in Japan for a stunning 14 years. I am currently on my second KATE Designing Eyebrow Powder 3D, and I can't recommend this product enough– so here goes another review!
High quality and reliable eyebrow powder


Kate Designing Eyebrow Powder 3D comes in two colours – EX-4 Light Brown and EX-5 Brown. In Japan it is recommended to choose a shade lighter than your hair colour, and since both palette comes in three colours, it can cater to almost all people! I have very dark hair, so I use EX-5 Brown.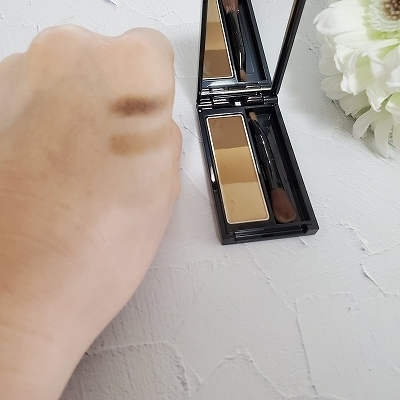 The colours are sitting next to each other, making it easy to blend the powders to achieve your desired shade. It also allows you to give a gradation to your eyebrow, avoiding flat, pasted looking eyebrows.
Easy to apply – even for non-seasoned eyebrow drawers!


I wear very little make-up, but even on days I don't wear eye makeup, I still do my eyebrows, as I think it really makes a big difference. My eyebrows are quite thin and arched from all those years of plucking, and even a little touch up makes them look a lot softer.

I own eyebrow pencils, eyebrow mascaras and this KATE Disigning Eyebrow Powder 3D, but I found that eyebrow pencils can stand out unless you're a seasoned brow-drawer, and unfortunately, that is not me.
KATE Designing Eyebrow Powder 3D has a brush with really soft bristles on both ends, one of which is angled As I said, I need to "draw" the outline on the bottom end bit of eyebrows before even filling between the hairs.


Now that is a bit tricky with the brush that comes with KATE Designing Eyebrow Powder 3D as the bristles are so soft, so I use an eyebrow brush that has hard bristles. Then I use the angled brush to fill in the gaps, blending the two darker shades, and move on to my inner eyebrows with the wider part of the brush.
If you are lucky enough to have full eyebrows, it should be easy to apply the powder to the inner ends with the wider brush, and the outer ends with the angled side. Just try to fill in the "gaps" between the hair, tapping the powder in with the brush.
Natural finish
It uses very fine powder, so it doesn't give you a "painted it on" look – it is very subtle and natural, something I found hard to achieve with pencils. Even after a few hours, they don't clump together so you really don't have to worry about reapplying.
Wrapping up
Even using it every day, my first KATE Designing Eyebrow Powder 3D has lasted years, and I sometimes use the lighter colour as a nose shading powder and contouring powder. Quite handy when you're travelling!
It makes it very easy even for novices to create natural, 3D looking eyebrows in no time, not very hard to find the colour that matches you as you can blend the three colours in the palette (therefore they only offer two different palettes).
I have tried endless eyebrow products over the years, but I have never been without KATE Designing Eyebrow Powder 3D since I've come across it. The time I spend on my eyebrows have shortened a lot ( I used to dread doing them as I could never achieve the look I wanted), and I can positively say that I will be buying more once I run out!
You can get your hands on KATE Designing Eyebrow Powder 3D here!