Hi, I'm Chie from Zak Zakka. Today I'd like to share with you a review of a set of new eyeshadow pallets from a very popular makeup brand, MAJOLICA MAJORCA, just in time for the festive season.
Zak Zakka is now collaborated with BABYDOT which introduces  the lives of Japan's child-rearing generation! It has 10 million/month page views.
The original content is from BABYDOT.
Hello, I'm aionnn from BABYDOT editorial. As we head into winter, I'm sure many of you wish to change your makeup to match the season, just like you change your wardrobe to winter clothes.
Many brands launch new items towards winter months, but sometimes it's hard to know which ones are right for you…
Worry no more, I have a great new product I'd love to recommend!
Shiseido's very popular makeup brand MAJOLICA MAJORCA has a new eyeshadow palette that gives you melt on your eyes gradation.
This is a superb eyeshadow palette that you can achieve who you want to be this winter!
Let's have a good look, shall we?
MAJOLICA MAJORCA Shadow Flash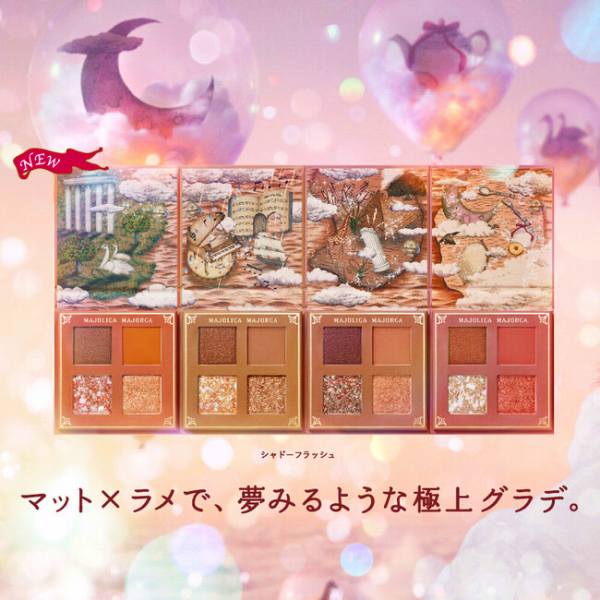 Product Name:MAJOLICA MAJORCA Shadow Flash
Launch Date: Monday 21st November 2022
4 different eyeshadow pallets, all with 4 different textures of "matte, pearl, metallic and glitter" in one pallet!
Feature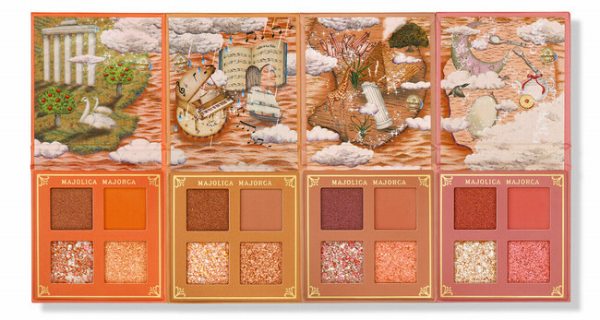 You can achieve impactful eyes with beautiful, blended gradation by layering the four colours that are in the palette.  
Flash-glitter colour on the left bottom of the palette is loaded with different glitters and gives various impressions depending on how you apply it, whether it's on the eyelids or under the eyes.
Each eyeshadow palette has an illustration of MAJOLICA MAJORCA's magical world map, and the map is complete when you line up all four palettes!
Doesn't that make you want to get all four!?
OR701 Dusty Orange

This colourway has a beautiful, muted shade, you will see a different you in the mirror by using this as an accent colour!
BR202 Camel Brown

Brown is the go-to colour that would suit anyone.
It will never be a waste to buy brown shades, but why not get a shimmering gorgeous brown this winter?
BE703 Cocoa Beige

Beige can give you a soft and gentle impression.
It's a versatile colour you can use for work and off work, you won't regret getting!
PK304 Misty Pink

Cute girly pink colourway, not too strong but not too subtle, great if you're new to lighter colour palettes or want to have a try.
Summing up
What did you think about the
MAJOLICA MAJORCA Shadow Flash
I have reviewed today?
Did it make you want to try these eyeshadow palettes this winter?
I assure you that eye make-up will become more fun with these eyeshadow palettes!
Please do try out all variations!
The original content is from BABYDOT Japan
Introducing the Lives of Japanese Parenting Families
Popular Website with 10 million page views/month!