The UK is one of the world leaders when it comes to the reduction of plastics, with efforts being made for an eco-life that is kind to our earth. Compared to Japan, where plastic seems to be used willy-nilly, there's a LOT less waste. If you're a forward thinking, environment saving pursuer like myself, then you're most probably familiar with the merits of owning your own reusable bottle. By filling up your bottle with your favourite drinks such as teas, coffees, smoothies, water and then washing the bottle and continuing to use it, it's not only eco-friendly but also easy on your wallet. Two birds one stone anyone? True, there appear to be a lot of pluses to using a reusable bottle… but alas there is a disadvantage; it seems no matter how hard you try, it cannot be cleaned to perfection.
L-Shaped Tip For Tough Spots
Typically you'd use your bottle everyday and so water bottle hygiene is VITAL. You don't want to put anything dirty in your mouth; you'll end up making yourself sick. A common complaint with the bottle is "I'm worried about the dirt on the bottom ..." and so, I'm eager to introduce to you a very nifty water bottle cleaner: the ULTIMATE bottle washing sponge! As the name suggests, the sponge specializes in washing bottles, even the tough gritty tea stains and stubborn coffee rings right at the bottom of the bottle.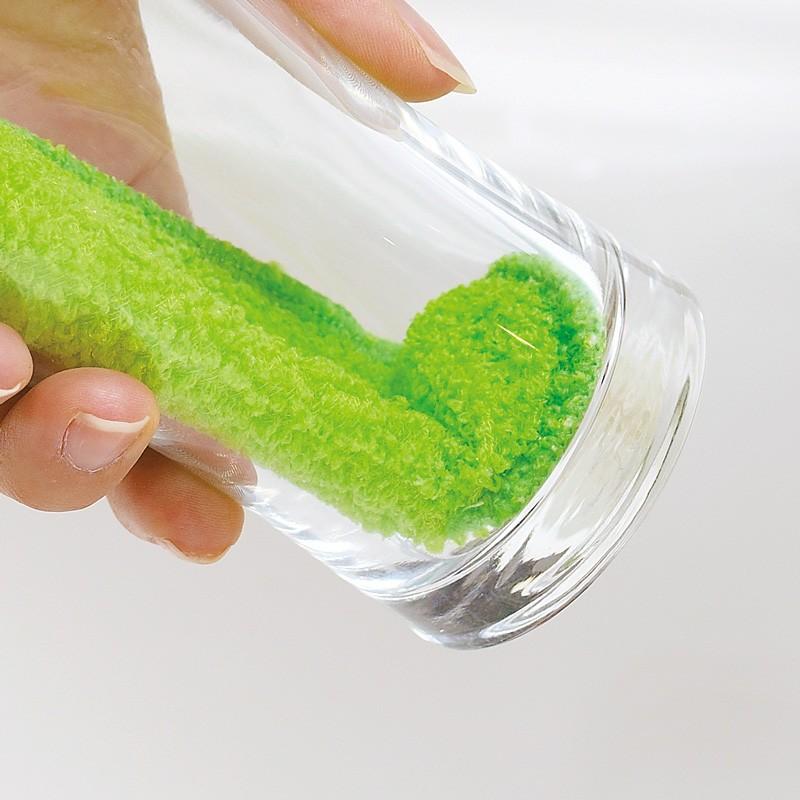 No more hard to reach spots as the L-Shaped tip does all the hard work for you. It's long enough to reach the bottom without having to cram your hand into the narrow opening (been there, done that, over it… am I right?!). The special resin coating allows for easy breezy dirt removal even without washing liquid! So if you're really in a rush just give it a quick scrub and rinse and you're good to go-go-GO! Now breathe a sigh of relief. You may as well call it a self cleaning bottle as that's how thoroughly and quickly it cleans. Cleaning thermos flasks will become a piece of cake. 
Dishwasher or Hand Wash? 
For those who worry about the quality of cleaning from a dishwasher - "I wonder if the dishwasher has actually removed the dirt from the bottom?"… or for those who don't want to put their precious, delicate bottle in the dishwasher in the first place… why not give yourself piece of mind and try this magic sponge. You won't have any worries with the quality of cleanliness after using it. It's not only great for use with plastic tumblers, but also perfect for thermos flask cleaning too. 
If you haven't jumped on the eco-friendly bandwagon, it's never too late to start and Zak Zakka can help you get in the right direction as this magical sponge AND thermos flasks are both on sale at Zak Zakka. If you're feeling flush and want to make a difference to our earth then why not have a gander? Happy shopping!