You may have heard of a little (not so) secret called Natural Aqua Gel Cure… it's an award winning Japanese skincare product and Japan's top selling facial exfoliator.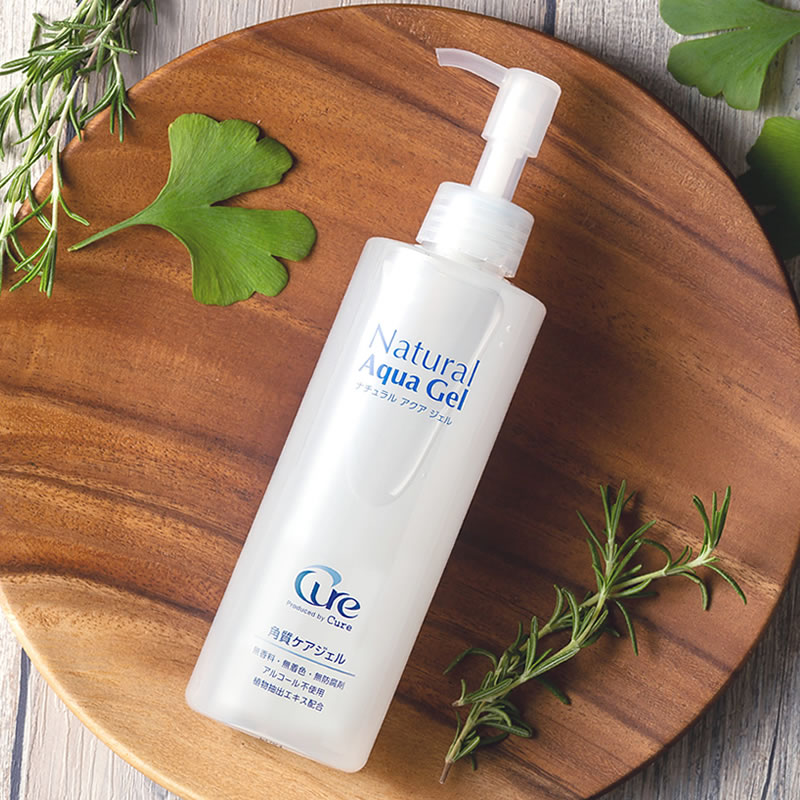 So many websites and magazines are raving about it, including Glamour, InStyle, Refinery29 and The Strategist. But is it worth the hype? I absolutely, 100%, undoubtedly think so. With a bottle of this peeling gel being sold in Japan every 4.5 seconds, there's a reason why it's flying off the shelves. Are you looking for baby soft skin and a bright, glowing complexion? Then get ready to find out why Natural Cure Aqua Gel is the new must have, Japanese cosmetic staple in your skincare regime.
"Cure Aqua Gel Review – Yes it's worth the hype" 
– Well + Good
Doesn't Exfoliation Just Scrub Skin?
First things first, what exactly is exfoliation and why is everyone going on about it? Exfoliation is the removal of dead skin cells that build up on your skin's surface. Gross right? There are two types of exfoliation; mechanically using scrubs or chemically with scrubs that contain special kinds of acids that dissolve and remove the dead skin cells without physically scrubbing. I can't stress enough the importance of exfoliating…as we age, the process of cell regeneration slows down and our bodies become slower at shedding the old skin cells and generating new ones. This old skin eventually piles up which is why your skin ends up looking and feeling rough, dull and dry. Whomp, whomp. Those built up dead skin cells are also the suspects of excess oil and clogged pores which give you blemishes and acne! Double whomp, whomp. Is there a hero to save our skin? You bet your bottom dollar there is! Natural Aqua Gel Cure to the rescue!
"Exfoliation is awesome. It's one of the best things you can do for your skin, and if you ain't doing it already, you need to jump on this bandwagon ASAP"
 – Beautiful With Brains 
The Benefits of Exfoliating – Not Just An Anti Aging Serum
There are five amazing benefits of using an exfoliator; yes, five! They minimize blemished skin and breakouts, improve skin's hydration and moisture levels, challenge aging, stimulate blood flow and prepare your skin for cosmetics and tanning. As exfoliation removes the barrier of dead skin cells it uncovers the fresh, new cells below which clears the way for your moisturizers and serums to penetrate the skin better, making them more effective. Did you know that long term exfoliation increases the production of collagen? More collagen means plumper skin so you can say sayonara to fine lines and wrinkles. If it's healthy, glowing skin you're after then regular exfoliation is a must but saying that you should limit exfoliation to only once or twice a week. Any more than that and you'll end up with dry, irritated, and damaged skin. You'll need a product that is powerful enough to get the job done without being harsh on your skin… here's looking at you Cure Aqua Gel!
"It's the best pore cleanser I've ever used. It worked so well that I insist that you buy a bottle of this stuff, like, yesterday" 
- Glamour
Why Are Microbeads Bad For The Environment?
Microbeads used to be the main ingredient in exfoliating scrubs and still are for a lot of products. However, after seeing the negative effects it was having on the environment, many places have banned use of microbeads. Huzzah! What happens is they go down the drain and contaminate the water supply. Cure Aqua Gel contains no microbeads so not only are you giving yourself a well deserved face scrub with every use, but you're also protecting the environment. 
Cure – Award Winning Water Based Gel Exfoliator 
Yes, you too can experience fresh, smooth, and radiant skin firsthand with this best selling, gentle exfoliator. And at a reasonable price, may I add; Zak Zakka offers it at TAX FREE price, so it is cheaper compared to the bottles sold in the UK, even with the international shipping is added. This award winning product will last you MONTHS as you only have to use it once a week (twice if you want that deep, deep clean). Aqua Gel gently catches dead skin cells on the surface of the skin and removes them without using strong acids. It also helps skin metabolism function better. There is no need to rub or scrub your skin hard for amazing results either; you'll be wowed at how smooth your skin will become, even after the first use.
It's made with 91% activated hydrogen water and natural ingredients such as Aloe Leaf Extract, Gingko Biloba Leaf Extract and Rosemary Leaf Extract to give you the ultimate, smooth exfoliating experience you've been craving. What's more, with no fragrance, no colouring and no preservatives, it's perfect for those with sensitive skin too. I actually emailed Cure whilst I was pregnant to get the A-OK on using it and I could! So for you Mumma's to be out there who are looking for your exfoliation kick without worrying about the effects of harsh chemicals on your bubba, then this is the bottle for you as it's ok to use whilst pregnant. You can safely add that to your pregnancy skincare regime! With Cure Aqua Gel you'll reveal smooth and brighter skin instantly, achieve a more even looking complexion and reduce the appearance of pores and blackheads, all in one!
"This Gel Exfoliator Sells Every 4.5 Seconds in Japan — and It's Been Called 'Magic' in a Bottle" – People 
How To Use Natural Aqua Gel Cure  

Start by washing your face as you normally would and dry completely. Pump about three to five pumps into your hand and apply to your desired area (I go for the forehead, chin and nose). Leave it on your skin for a few moments to allow Aqua Gel to react with the dead skin cells, then gently massage it in a circular motion for about 30 seconds to 1 minute. Do not rub too hard as you really don't need to to make it work and you'll just end up irritating your beautiful skin. The gel will turn into a milky white color, and this is the shocking part… beads of dead skin cells can be seen as they are lifted off of the skin! No only will it feel fresh but you'll see the effects of the gel before your very eyes! You know it's working. Make sure to rinse well with water and then finish off with your regular skincare routine. Don't think that Natural Aqua Gel is limited to just your face; can be used on other parts of the body such as hands, elbows, neck and knees too.
I can personally say how fantastic this product is having used it for years. I've tried other slightly cheaper exfoliators but honestly, none can compare. Like they say "if it's not broken, don't fix it" so I can hand on heart say this will be my No.1 for many years to come. It was even my skincare saving grace whilst I was preggo! But don't just take my word for it. With all of the 5 star reviews on how effective it is and considering how long it lasts, it's such a great price too, why not grab yourself a bottle and experience this skincare wonder? Worried you can't find it in the UK? Don't be. Zak Zakka have got you covered, delivering this bottled magic direct to your door today.