Hi, it's Chie from Zak Zakka. Do you use eyelash curlers? If so, are you happy with the one you're using now? Have you ever wished it fitted your eyes better and lifted your lashes more? Today I am reviewing Shiseido's sell-out eyelash curler #213 and Maquillage Eyelash Curler. This review will help you decide which one suits you better to achieve fully lifted lashes!
Shiseido Eyelash Curler #213
Shiseido sells two different eyelash curlers in Japan, #213 and Shiseido Make-up Eyelash Curler. The difference is in the curve, and #213 has a deeper curve compared to Shiseido Make-up Curler. Shiseido Maki-up Eyelash Curlers are available in UK, but are quite pricey and also often sold out. In Japan, #213 is a long selling firm favourite, with its carefully designed curve to match the contour of the eyes and wide opening to slide the lashes in for a more defined curl.
The silicone rubber cushion has a special rounded shape, making it easy to lift the lashes from the roots to the tips without any kinks.
Maquillage Edge Free Eyelash Curler
This curler is popular among Asians who tend to have elongated almond shaped eyes, and it sells out often in Japan.
It is slightly wider than Shiseido #213, allowing all the lashes to be curled at one go.
Its edge-free design avoids pinching the eyelid, and it also allows maximum power transfer for more defined curls.
Which eyelash curler should you choose?
It's often said that you should choose a curler that is in line with the width of your eyes and matches the curve of your eyes, but that's easier said than done.
Here's some comparison to help find your ideal eyelash curler.
When put next to each other, the difference of the curve really stands out.
Shiseido #213 has a larger curve compared to Maquillage, which has a flatter arch.
The curve should match the contour of your eyes so that the curler will capture all the lashes without pinching your eyelids.
Also, Maquillage is a tiny bit wider than Shiseido #213. It may seem like an insignificant difference, but when you actually use them, you can feel how different they are.
I have rounder eyes compared to my daughter's, and trying both, I found that Shiseido #213 works better for me. All my lashes were in the curler without pinching my eyelid. Maquillage caught my eyelid and I had to adjust the position before squeezing the handle, which isn't really ideal when I think about using it every day.
My daughter, on the other hand, found Maquillage a better fit. It lifted her lashes really well, where as Shiseido #213 only caught the tips of her lashes because the curve of the curler was too steep for her eyes.
They may only differ by a few millimetres, but when it comes to curling your eyelashes, that's what makes all the difference!
Wrapping up
I hope this review has helped you decide which eyelash curler works better for you. To recap, if you have less contoured eyes, it's likely that Maquillage eyelash curler will work for you. And if you have flatter, almond eyes, Shiseido #213 will probably work better.
If you're still unsure, try closing your eyes and touching your eyelid to feel the shape of your eyeballs. It may sound silly, but if you compare it with someone else, you will get a pretty good idea of the contour or your eyes.
If Shiseido #213 is for you, click here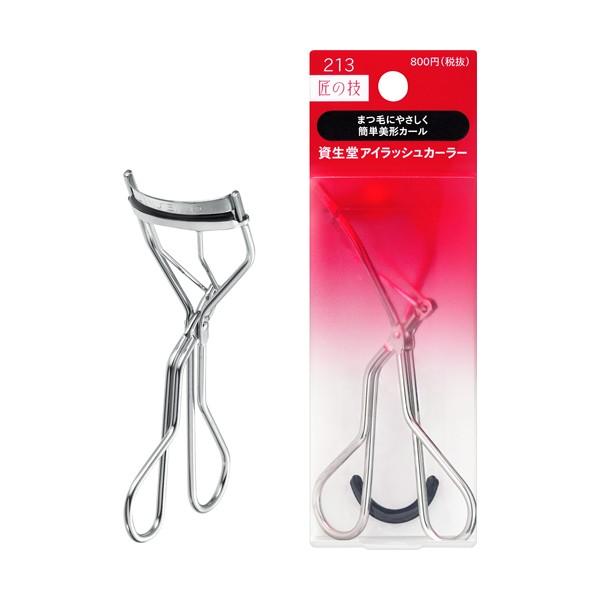 and if Maquillage is a fit for you, here's the link.