Hi, I'm Chie from Zak Zakka. Today I would like to share with you a review of a hair milk product from Orbis. I use a few different types of hair care items, milk, oil, spray, balm, and wax depending on what I feel my hair needs and whether it's after I've washed my hair or before using a hair dryer or doing my hair up. "Milk" hair care product is quite popular in Japan, it's like a leave in conditioner but lightweight and I find it very moisturising that helps to detangle and add shine and moisture to your hair.
If you read the review of Orbis hair milk by Allie from BABYDOT, I think you will want to try it out!
Zak Zakka is now collaborated with BABYDOT which introduces  the lives of Japan's child-rearing generation! It has 10 million/month page views.
The original content is from BABYDOT.
Hello, I'm Allie from BABYDOT. It's getting cooler but I've found my hair has been damaged by the heat and strong sunshine during the summer months.
 I saw a highly reviewed great-for-value hair care item on social media and headed to Orbis.
I think I found a great item!!
Let me show you what it's like.
Orbis Essence In Hair Milk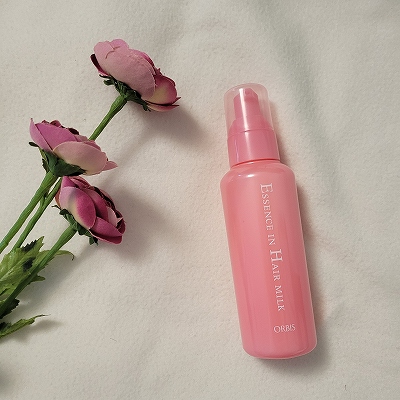 Product name :Essence In Hair Milk
Content:140g
I purchased a full-size bottle instead of a refill as this was my first time.
No fragrance, no colour added.
●No oil used which can cause oxidation.
●Deep penetrating beauty ingredients= a blend of CMC(cell membrane complex) -like ingredient and 11 types of amino acid that helps repair your hair
●Contains high water retaining milk=Hair protection ingredient that has high water retention
●Contains heat protein =protects the hair
●Contains shiny gloss ingredient = gives shine to the hair
●No alcohol
※Allergy tested=Does not guarantee that it will not cause an allergic reaction to anyone who uses it.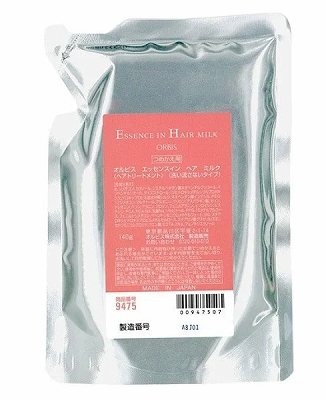 They also have refill pouches which makes it eco-friendly.
オルビスのヘアミルク使い切り!これを使い始めてから、髪の調子が良い👍リフィル買ったので、引き続き使います! pic.twitter.com/zUo9BwveLk

— コスメクローラー ピンコ (@cosme_crawler) September 28, 2022 
Finished using a whole bottle of Orbis hair milk! Since I started using this, my hair is in great condition. Bought a refill so I'll be using more of this!
How to use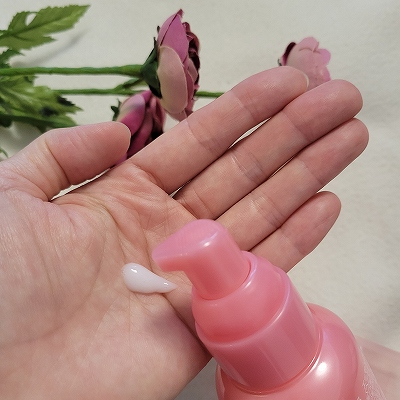 The bottle can be used with one hand, push 2 to 3 times, and massage the milk evenly on the ends. You can use it on towel-dried damp hair or dry hair.
It doesn't feel sticky at all, and glides and absorbs quickly when applied, due to high moisturizing ingredients!
I'm told that hair beauty serum contained in the milk starts to melt out the moment you apply the milk on the hair!
I also love the fact that it has no fragrance!
A lot of hair milks and hair oils tend to have a strong scent, that interfere with the fragrance of the shampoo you use, or that you simply don't like. The fact that this hair milk is not fragranced makes it easy to use with whatever you have and whenever you want.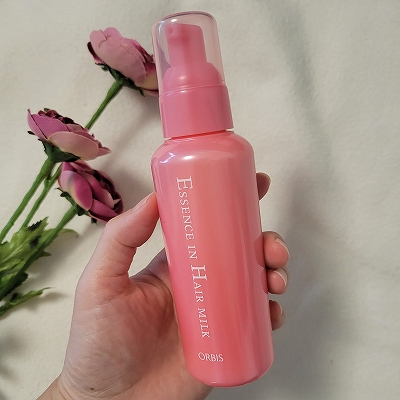 It uses the heat from the hair dryer to create a cuticle-like layer, but you can use it not only before drying but also on dried hair, so it's handy when you want to style your hair in the morning too.
Contains a beauty ingredient, "Pseudo-CMC"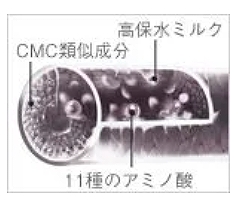 This product contains "pseudo-CMC", a beauty hair ingredient that is much talked about in the hair salon industry.
This "CMC" prevents vital components from leaking out from the hair, binding together the fibre within that can fall apart when damaged. Once the hair loses "CMC", it can't generate itself so you need to replenish it through haircare.
オルビスのヘアミルク、プチプラだから買ってみたらめちゃめちゃお値段以上だった
剛毛+ブリーチでハイダメージな毛がちょっと柔らかくまとまり安くなる!
エルジューダやエヌドットより私には合ってるかも~

— ぶたにく@PC春 (@buta_niku_boo) September 28, 2022
I gave Orbis hair milk a try as it was affordably priced, and it exceeded my expectation! My hair is coarse and highly damaged from bleaching, but this product leaves my hair a little bit softer and easy to manage! I think this works better on my hair than other products.
The effect it had on my hair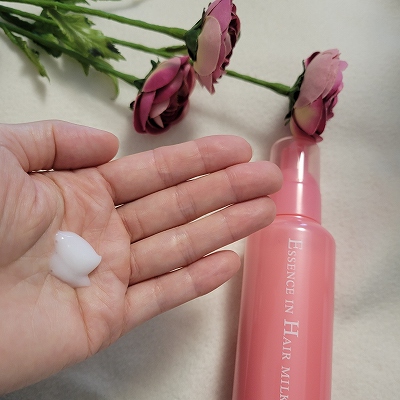 I've only used it a few days, but I'm surprised how silky smooth my hair is when I apply this after washing my hair, before I use a hair dryer.
My hair used to feel dried out in the morning, but the ends feel well moisturized now!
I use the hair milk twice a day before I dry my hair in the evening and when I style my hair in the morning.
I will definitely be buying more!
To wrap up
I would really urge you to give it a try if you have dry, unruly hair, split ends or want more shine to your hair.
It has a reasonable price point, unlike items you find at a hair salon, and they have a refill which stands at an even better price.
Do give it a try if my article has spurred interest!
The original content is from BABYDOT Japan
Introducing the Lives of Japanese Parenting Families
Popular Website with 10 million page views/month!