Hi, I'm Chie from Zak Zakka. What kind of eyebrow make-up products do you use? Do you have a favourite? I own three different eyebrow products, a thin pencil, a powder palette and a brow mascara. Even if you wear very little makeup, touching up your eyebrows makes a big difference.
Today I would like to share with you my favourite Heavy Rotation Colouring Eyebrow mascara. I really can't do without it, so much so that I have three – one in my makeup box, one in the car, and one in my gym bag!
Colour variations to match your hair colour
Kiss Me Heavy Rotation Colouring Eyebrow has 8 different colours to cater to most people with different hair colour. Here at Zak Zakka, we offer three colour variations. 03 Ash Brown, a neutral light brown colour, 04 Natural Brown, which the best-selling colour in Japan, and also 08 Ash Grey, for darker hair colour.
It also works as a temporary tint, so if you want to make your eyebrows lighter than they actually are, choose a shade lighter than your hair and apply it over your eyebrows for a change of impression.
My hair is naturally black, and I've been using 08 Ash Grey. Although it's the darkest shade in the colour chart, it isn't pitch black and blends well with my natural eyebrows.
Mascara type applicator
The brush is quite chunky but shorter than a usual mascara brush, it glides through the eyebrows to leave a natural layer of colour without clumping together or smearing on the skin.
Unless you rub it with your fingers, it won't come off easily, but I noticed it will come off easily with face wash, or even just warm water.
Use it as a finishing touch or on its own
When I do my eyebrows properly, I draw the bits I need to add with an eyebrow pencil or powder palette, then run over the whole of my eyebrows with the mascara to give it a unified look.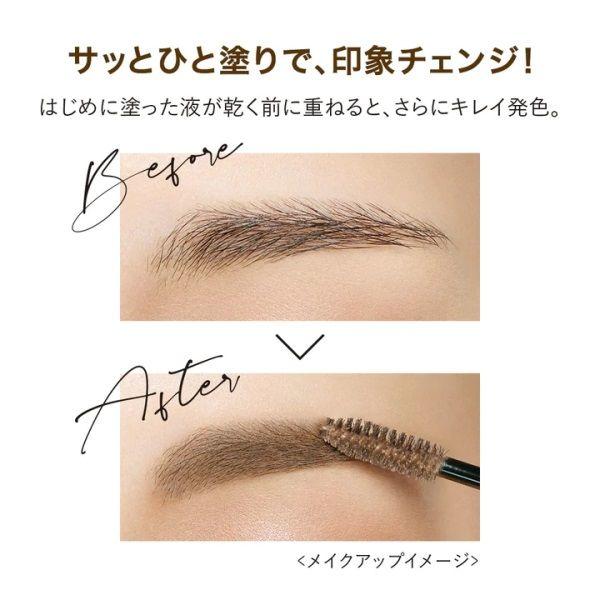 However, when I'm in a rush (or just can't be bothered), I just use this eyebrow mascara on its own, brushing over my eyebrows and also a little on the skin where I wish I had more eyebrows. If I've overdone it, I just brush it over with a clean screw brush to blur it out.
I think using Kiss Me Heavy Rotation Eyebrow Mascara with other eyebrow product creates a more natural look, but depending on what look you want to create, using it on its own certainly also works.
This is such a handy and versatile product and you won't regret having one at hand!
Zak Zakka also have other Kiss Me products too, so please have a look J