Picture this; it's a beautiful, hot summer's day and you're fully prepared – you have your picnic packed for the beach, swim gear on and lathered up the sunscreen.
Well done to you for considering sun care! But did you know it's not just in the summer that you should be wearing sunscreen? Wearing sunscreen is a health preventative measure that should be maintained throughout the year to protect yourself from the dangerous sun UV rays. That's right! Even during the winter months and the cloudiest of days. Up to 80 percent of the sun's ultraviolet rays can pass through clouds and snow reflects those harmful rays too, increasing your risk of irreversible sun damage.
Don't forget the higher the altitude, the higher the risk of UV exposure too. But doesn't sunscreen clog pores and create skincare havoc, not to mention all of those nasty chemicals? Fear not… Japan has an answer for your sunscreen cream worries and it's called Biore UV Aqua Rich Watery Essence. Biore is no rookie when it comes to sunscreens or Japanese skincare products; being the top seller of sun products in Japan for twelve years running! Biore UV Aqua Rich Watery Essence is no exception.
Sun Damage & Ultraviolet Rays
Sunscreen, sunblock, suntan lotion… whatever you call it there are more than a few good reasons to get into the healthy habit of lathering up the sunscreen everyday. Medically speaking, it lowers the risk of skin cancers, such as melanoma which is fatal. It also protects your skin from UV rays and free-radicals by blocking them and preventing sunburn which weakens the skin making you more susceptible to skin damage and bruises.
From a beauty point of view, it prevents premature aging of the skin such as wrinkles and fine lines. It also helps maintain an even skin tone so no blotchiness, red veins, dark spots, freckles and dryness to contend with and it even helps to prevent acne. One thing to bear in mind is that most doctors recommend to use nothing lower than SPF30…. That's where Biore UV Aqua Rich comes to the rescue! It's a whopping SPF50+ so absolutely no worries about any of these risks if you fit it into your daily beauty/healthcare routine. 
Are Sunscreens Really Good For Skin?
To put it bluntly; some sunscreens aren't. I've been there, done that and got the T-Shirt. Especially with my acne prone skin… I always felt like it just clogged my pores up, felt gloopy and always left me looking like Casper the Ghost. Some are chocked full of chemicals that just don't cut the mustard when it comes to looking after your skin. There are some sunscreens that you can only use on your body too so you accidentally use some on your face to find your face looking rather tomato-y and chemically burnt (only me??). It's so much hassle having to buy two separate sunscreens, not to mention the expense. Alas! I found Biore UV Aqua Rich Watery Essence which does exactly what it says on the tube. It's a beautiful, watery texture that's transparent and blends effortlessly with the skin.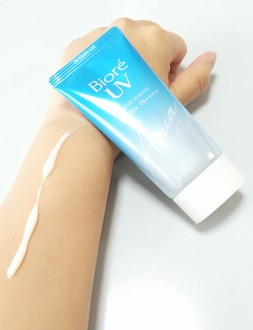 No matter how much you apply, it's wonderfully light and doesn't leave that awful chalky tint that most sunscreens do as there's no colouring. There's no flakiness, no tackiness; just fantastically hydrated skin that is protected from the sun. Biore UV Aqua Rich has been specially formulated to prevent breakouts and I can attest to that! The added bonus point is that it can be used for both your face AND your body, so no more having to read the small print to see if it's ok to use or like me… finding out the hard way *OUCH*.
Biore UV Aqua Rich Ingredients
It's so important to know what you're putting on your skin and into your body. Harsh chemicals will do more harm than good, even if they're protecting you from UV rays. Biore offers the best of both – Sun protection AND ingredients that won't damage your body. Allergy tested, it's colourant-free and contains plump micro water capsules and hyaluronic acid for beautifully hydrated skin. It feels more like a serum or a non sticky cream than a sunscreen. Have you ever heard of Royal Jelly extract? It smooths and brightens the skin and you guessed it… is also another fabulous ingredient in this sunscreen, alongside an abundance of BG (moisturizing ingredients). Another plus is that it's easy to clean with just soap and water so you don't need to scrub-a-dub-dub to get it off; it's much kinder to your skin. The very light fragrance of Lily of the valley is pleasant and will have you ready for what the day will throw at you.
Waterproof Cream With Complete Cover
Some people found that they still got sunburnt even though they've applied their sunscreen lotion? Perhaps they didn't apply enough or didn't apply it evenly? Don't forget that sweat, water (after a swim) or simply touching your skin can rub the sunscreen off. Biore is scientifically proven to be SUPER-WATERPROOF; it has been confirmed in a water resistance test to be fully effective for an impressive 80 minutes!! So you can dunk without despair for your skin and sun care. Biore UV Aqua Rich is actually the world's 1st micro defense formula which means it prevents uneven application, right down to the micro level. How's that for a piece of mind?
Makeup Primer SPF - Your New Favourite Foundation Primer
Yep! You read it right. Due to the smoothness of this sunscreen's texture and without any greasy residue, it actually makes for a perfect foundation primer! Of course you can wear it alone for a glowing, fresh faced complexion, but I've found it also works very well under make up. It cleverly fills in fine lines to stop your foundation or concealer creasing. No need to splash out on expensive primers anymore; this not only covers you with SPF50+, but also helps make your skin flawless when combined with your favourite foundation for that perfectly smooth & natural finish. Hello gorgeous!
So, for fresh & dewy skin that feels hydrated whilst fully protecting you from UV rays, Biore UV Aqua Rich Watery Essence is the way to go! At a reasonable price and a handy size that can fit nicely in your bag without weighing it down, I rate Biore UV Aqua Rich Watery Essence a 10/10. Zak Zakka has plenty in stock but summer is just around the corner so get yours today whilst stocks last. Stay sun safe.
New article has been published. Please check it!